"Ghostbusters" returns with an almost impossibly charming cast
As with most people, the word "reboot" sets my teeth on edge. I'm always a proponent of discarding tired concepts and flagging franchises in favor of original material. But reboots aren't inherently bad. Today's "Ghostbusters" announcement offers hope that at least one upcoming remake won't be cringeworthy.

Ladies and gentlemen, your new Ghostbusters:
* Melissa McCarthy (an Oscar nominee for a comedy, lest we forget)
* Kristen Wiig (in acting and writing, a force to be reckoned with)
* Kate McKinnon (the funniest cast member on "SNL" right now, as evidenced by the following clips and many others)

Leslie Jones (maybe the second funniest cast member on "SNL" right now. So funny that she was a writer on this season's first episode and a recurring cast member by the fourth)

With a screenplay from Katie Dippold ("Parks and Recreation," "The Heat") and direction from Paul Feig, whose "Bridesmaids" and "The Heat" are two of the funniest movies of the last ten years, this "Ghostbusters" remake seems to be a no-brainer. It has a few built-in advantages. It will take place in the same universe as the original films (and according to this HitFix report, Bill Murray might even play a prominent role), and Feig has already engendered goodwill for endeavoring to let the franchise evolve into a predominantly female-driven story.
But perhaps the smartest way to make a movie worth anticipating is to cast funny people. And I'm hard-pressed to think of four smarter choices for this movie than McCarthy, Wiig, McKinnon and Jones. To be sure, I'm keeping my expectations in check.Time will tell if the Ghostbusters brand is alive and well. But for now, I ain't afraid of no high expectations.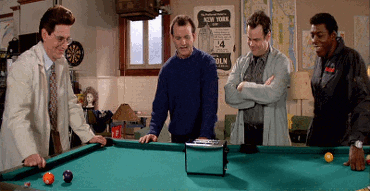 ---