Galentine's Day: Guide to a glorious day of food galore
Galentine's Day was first established in season two of "Parks and Recreation." This momentous holiday is Feb. 13, the day before Valentine's Day, and is all about showing the gal pals in your life how much you mean to them, as well as stuffing your face with Leslie Knope's two favorite things: desserts and waffles. This is a guide on how spend this Galentine's Day in Washington, D.C.
Brunch - B Too, Dupont Circle
Blomquist - De Brusselse Wafel with Mixed Berries
Bader - Luikse Wafel Met Peren
B Too's De Brusselse Wafel with Mixed Berries.
Photo by Emily Bader.
Blomquist: B Too is a swanky, chic Belgian restaurant that Donna and Tom would no doubt frequent. Better yet, the chef knows how to make a good waffle. If you call ahead, you can reserve a spot at one of the tables with couches. What better place than a comfy corner to get together with your gal pals? It doesn't get much better. I ordered a Belgian Chocolate Milk and De Brusselse Wafel with Mixed Berries (also known as the Belgian waffle) and Emily Bader ordered Luikse Wafel Met Peren. Both were very good, but Bader's pear waffle was a little bit better. The pears were ridiculous. Fresh berries beat melon and grapefruit from the Terrace Dining Room anyday. B Too is a good brunch spot to start off Galentine's day, even though it's a little pricey, but hey - "Treat YO self!"
Bader: The restaurant is definitely very chic, but it was a really cool atmosphere. I got a waffle with poached peaches and creme brulee sauce and those peaches were all-caps good. Super good, the best part of the whole meal. My waffle wasn't a Belgian waffle like Emily Blomquist's, but it was a little sweeter and was not too rich. I also got the Belgian Chocolate Milk, which was really tasty, but nothing special. But if you're willing to spend the $6 on hot chocolate, go for it. If you're 21 years-old, you can always add Bailey's for a bit of a mid-morning jump start to the day.
Lunch - Ri Ra Irish Pub, Georgetown
Blomquist - The Quay's Waffle
Bader- Pub Burger with Brie and Fries
Ri Ra Irish Pub's Pub Burger with
Photo by Emily Bader.Ri Ra Irish Pub's Pub Burger with Brie.
Blomquist: Visiting this pub, we were reminded of Ron Swanson's time in Scotland and his discovery that not all places in Europe are bad. Despite the fact that Swanson came to the conclusion, we think that he might have found Ireland, with all its brews, to be acceptable. The back of the menu even quotes Albert Einstein, "Beer is proof that God loves us and wants us to be happy." It was at the Ri Ra Irish pub on Galentine's day that we toasted to Ron Swanson.
Going with our waffle theme, I tried the Quay's Waffle. The Quay's Waffle has smoked salmon and greens on top of it. The smoked salmon was delicious and the mix of greens and sugary bread made it a surprisingly tasty dish. To top it off, I had a cup of Irish Breakfast tea. The staff at the Ri Ra Irish Pub are, in short, lovely. Our waitress was Irish. When I told her I was going to Ireland this summer she wrote a list of recommendations of places I should visit.
Bader: I loved the feel of this place. Not really a place you'd think of for Galentine's Day, but it was a nice change that felt very homey. We sat in comfortable leather chairs at a cute table looking out over the streets of Georgetown, not a view to complain about. I got the Pub Burger with Brie and it was super tasty. It was extremely filling, giving me energy to walk around all the cool shops in Georgetown for the rest of the day. I'd expect Ron Swanson would make an exception for this burger, even though the meat wasn't from Food and Stuff. And again, if you're 21 years-old, they have an extensive beer, wine and liquor selection. (Though no Lagavulin Whiskey). It was the perfect mid-afternoon meal.
Shakes/Dessert - Good Stuff Eatery, Georgetown
Blomquist- Toasted Marshmallows mixed with Cookies and Cream
Bader- Toasted Marshmallow Shake
Blomquist: By the end of the day I was pretty Galentine's Day-ed out. Nonetheless, nothing could stop me from enjoying one of Good Stuff Eatery's hand spun shakes. Undoubtedly,my decadent shake should of probably been enjoyed after a day of salad eating. Oh, well. Happy Galentine's Day!
Bader: Before heading back to campus, we stopped in Good Stuff Eatery, which seemed like a more hip version of Shake Shack. They had a big selection of burgers, but we came for the shakes. I couldn't eat any more after Ri Ra's burger. I got the Toasted Marshmallow and I could definitely taste the marshmallow in the shake. It was a nice touch to the end of the day. It might be a little cold for shakes, but who can beat ice cream? They had a lot of cool flavors like Vietnamese Coffee and Milky Way Malt, but they were all classic and sounded delicious. A delectable and yummy way to end Galentine's Day Warning: the place seems perpetually packed, so be sure to get yours to go.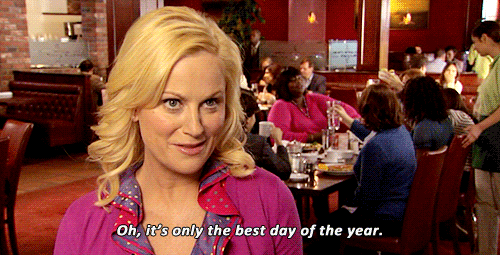 ---