Underdog mindset allows Women's Basketball to blow past BU, 75-45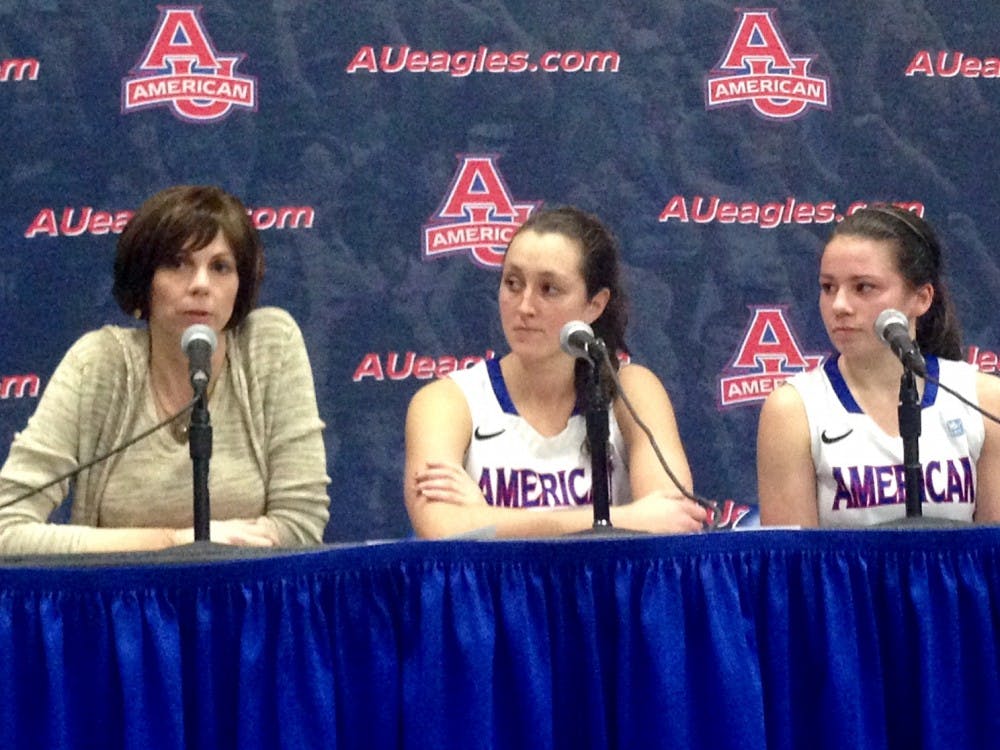 The new year has brought a new AU Women's Basketball team. After starting the season 0-3, the Eagles are in now sole possession of first place in the Patriot League and riding a seven game win streak since the start of conference play. The Boston University Terriers were the latest casualty, losing 75-45 in front of AU fans in Bender Arena on Jan. 21.
"It's working hard in practice, we've talked about playing as the underdog no matter who we're facing and taking one game at a time," second year head coach Megan Gebbia said of the reason for the team's success. "Not looking ahead to anybody, taking each opponent seriously."
The Eagles (12-6, 7-0 PL) were definitely not the underdog tonight facing the last place Terriers (4-14, 1-6 PL). AU finished the game with five players in double digits, including two off the bench. In only 22 minutes, freshman guard Emily Kinneston scored a career high 15 points. Junior guard Ari Booth joined Kinneston as the only other bench player with double digit scoring with 11 points.
Senior guard and team captain Jen Dumiak extended her impressive season statistics adding 12 points, four assists and four rebounds, which expands her team lead in points (297) and assists (121). Dumiak not only leads the team and the league in assists but is ranked sixth in the nation in assists per game with 6.9.
The Terriers failed to block inside, allowing the Eagles 16 of the 39 first half points in the paint. After making only 7 of 30 field goal attempts in the first half, BU left themselves susceptible to defensive rebounds and fast breaks. Senior guard Shaquilla Curtis collected six defensive rebounds in the first half, earning seven in total. After taking possession of the ball inside the Terriers zone, Curtis would send a quick pass to Dumiak, sprint down court for the fast break, and prepare to receive the ball for an easy lay-up. She ran this play several times throughout the games and finished with 11 points.
As a result of AU's speed and defense BU entered the locker room trailing 39-17 and looking to make adjustments.
"What was interesting about today's game was that they [BU] switched one through five, which is not something you see in the conference, and yet I still think we handled it well." Gebbia said, "Which is good for us in the future cause when you have mismatched all over the floor you need to take advantage of it."
The constant defense changes didn't stop the Eagles, who finished the game shooting 26-for-51, good enough for 57 points. The rest of team's points came from going 18-for-23 (78.3 percent) from the free throw line.
"I'd love to shoot 20 or more free throws a game if we could, and we haven't been doing that because our other guards haven't been attacking," Gebbia said. "Arron [Zimmerman] has attacked and Jen [Dumiak] has attacked, that's pretty much it, and we need the other players to participate."
During the Eagles comfortable lead, many of the non-regulars saw increased playing time. All but one player played double digit minutes.
AU held BU to 45 points, the Terriers lowest scoring game of the season, finishing the game 15-for-58 (25.9%).
When asked about the team's tough non-conference schedule and if it prepared the team for Patriot League play, senior forward Arron Zimmerman said, "I think it definitely did, we planned against a lot of tough competition. They were faster, stronger, and this is where we showed it. The patriot league, that's more our level where we can compete."
The Eagles will travel to West Point, N.Y. to take on the United States Military Academy on Jan. 24.
---