Brennan brings experience and humor to AU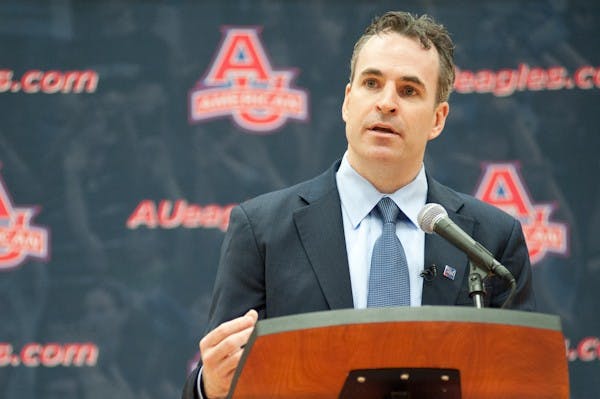 Perhaps the biggest difference between the head coach and assistant coach positions for new AU men's basketball head coach Mike Brennan is the amount of speaking. Not only does Brennan direct all of practice, but he shouts across the court during the game and greets alumni, fans and media.
All this talking has taken a toll on Brennan as he nurses a sore throat the Monday after his team's 63-60 loss to nearby George Mason University.
Unfortunately, Brennan has little time to rest his voice. He needs to talk and needs to teach a relatively young Eagle squad the ins and outs of basketball since nine of the 15 active members on the roster are underclassmen.
Three days later, Brennan is still nursing his sore throat as evidenced by the bag of Halls sitting next to Brennan's chair at the Eagles' home opener against the University of Maryland-Baltimore County.
It only takes a few moments into the game for Brennan to opt for coaching over throat recovery as he shouts directions across the court to one of his players.
When Brennan is talking, it's likely about basketball or humor, or sometimes both. At the AU Chalk Talk in October, Brennan showed off his comedic side to the fans in attendance.
"We have a trip to Ohio State early in the season. I told my coach (Scott) Greenman I might be taking a recruiting trip for that game," Brennan jokes.
The Buckeyes were voted No. 10 in the nation by Division I coaches before the season began and play in the Big 10 conference, which sent seven teams to last year's NCAA Tournament. Contrastingly, AU was voted ninth in the Patriot League by coaches in just the conference, which sends only one team to the NCAA Tournament.
While a victory over the Buckeyes would certainly be a major milestone early in his career, the task for Brennan is more than just beating one team.
Of the five major hires that the AU athletic department made in 2013, Brennan arguably has the biggest shoes to fill. He is replacing Jeff Jones, the man who holds most of the Eagles' coaching records, including the only two appearances in the NCAA tournament in school history in 2008 and 2009.
Brennan inherits an Eagle team that finished seventh in the Patriot League last season, their worst finish since joining the conference in 2000. The team also finished with a 5-9 record, their worst since joining the Patriot League.
But not everything is stacked against Brennan as his current roster has talent. His starting lineup includes junior sharpshooter John Schoof, who finished third in the country in three point shooting percentage. Joining Schoof will be 6'11 senior center Tony Wroblicky and highly touted transfer, junior guard Darius Gardner. Two talented freshmen Justice Montgomery and Yilret Yijep, figure to see significant minutes coming off of the bench.
"I've been telling the guys we're going to need everybody," Brennan said of his roster. "I know that everyone is capable of contributing so I'm going to try and use everybody.
So far Brennan has showed equal ability for telling jokes as he does for coaching basketball. After two games the Eagles are 1-1 and show promise, particularly after the Eagles beat UMBC in overtime thanks to a standout game from Gardner.
Living the sport
Brennan and basketball has been a lifelong relationship. Growing up in New Jersey, Brennan's basketball career began with his father, who coached the local youth team and also played in college.
"When I was little I just went to the park every day," Brennan said about his early days playing basketball.
His love of the game would carry over to high school where he played under Ben Candelino at Elizabeth High School, a coach Brennan would cite as one of his most influential coaching mentors.
When college came around, Brennan chose to attend school close to home at Princeton University, under the future Basketball Hall of Famer and head coach Pete Carril. Brennan cited Carril as his "biggest basketball influence" in his introductory press conference at AU.
While at Princeton in 1991 and 1992, Brennan participated in two of Carril's 13 Ivy League regular season championships with the Tigers and was named Second Team All-Ivy in 1994.
After graduating from Princeton, Brennan served a short career as a professional player in Europe, but soon found his way back to the U.S. for the next part of his basketball life, this time as a coach.
"I knew I always wanted to be involved in basketball somehow," Brennan said, adding he thought about putting his English degree to use, but ultimately decided on coaching.
Following a one year stint at Columbia University as a graduate assistant, Brennan returned to Princeton where he would serve as an assistant coach for seven seasons with the Tigers being a part of three Ivy League championships.
In 2007 Brennan came to AU as an assistant coach under Jones. While at AU, Brennan was a coach on the first AU team to win 20 games since joining the Patriot League, and more importantly was part of the only two AU teams to reach the NCAA tournament.
"I would say his strength lies in helping players develop their individual skills," Jones said of Brennan in an email. "He's one of the best I've ever been around."
Following his two seasons at AU, Brennan headed downtown to become an assistant at national power Georgetown University under head coach John Thompson III who Brennan had coached with at Princeton. Brennan added success to an already elite program, leading the Hoyas' program to four straight appearances in the NCAA Tournament and a share of the Big East regular season title in 2013.
"Anything you take away from those guys, you gain from experience," Brennan said of what he learned from his past head coaches. "I worked for really good guys, really good coaches and, having spent so much time with them, I just tried to take away as much as I could."
Georgetown would be Brennan's last stop before coming to AU in April of 2013.
When assembling his coaching staff at AU, Brennan relied on familiar faces in the D.C. college basketball scene to help lead the Eagles. Two AU assistants Scott Greenman (Georgetown) and Matt Wolff (AU), and Director of Operations Greg Collucci (George Washington) all spent last year coaching at D.C. area school.
"The assistant coaches are great," Brennan said of his staff. "I hired all of them for a reason, they are good, they are good at what they do."
As a head coach, Brennan is equal parts parent as he is teacher.
"On the court (Brennan) definitely get on you if you are not doing what you are supposed to do be doing, he'll let you know what you're doing wrong," Schoof said. "But he'll also be the guy to pick you right up."
Besides the change in personality, the biggest transition from Jones to Brennan is a change in strategy with Brennan instituting the "Princeton offense," which involves all five players on the court being able to dribble, pass and shoot.
Schoof acknowledges transition can be challenging as Brennan and the players on the team are relying on the older players to help ease the change and set a standard for the younger players.
"For a lot of the older guys who are here we know how hard you have to play and how hard you have to work to be successful at this level," Schoof said. "Learning the plays and learning what Brennan wants us to do, that's the easy part."
While the AU basketball community acknowledges Brennan is not Jones, the Eagles and their followers hope that what was started under Jones can ultimately be finished by Brennan.
Brennan said returning the Eagles to the top of the conference will not happen instantaneously but is optimistic that the team can parallel the success they had under Jones.
"Our goal is to be competitive as possible," Brennan said. "You can't decide when shots go in, but you can get your guys to feel good about what you're doing. When people come to see us play I want them to say 'Hey these guys are working hard'."
esaltzman@theeagleonline.com
---