Staff Editorial: Graduate students need more information about AU's sexual assault resources
Campus resources aren't just for undergrads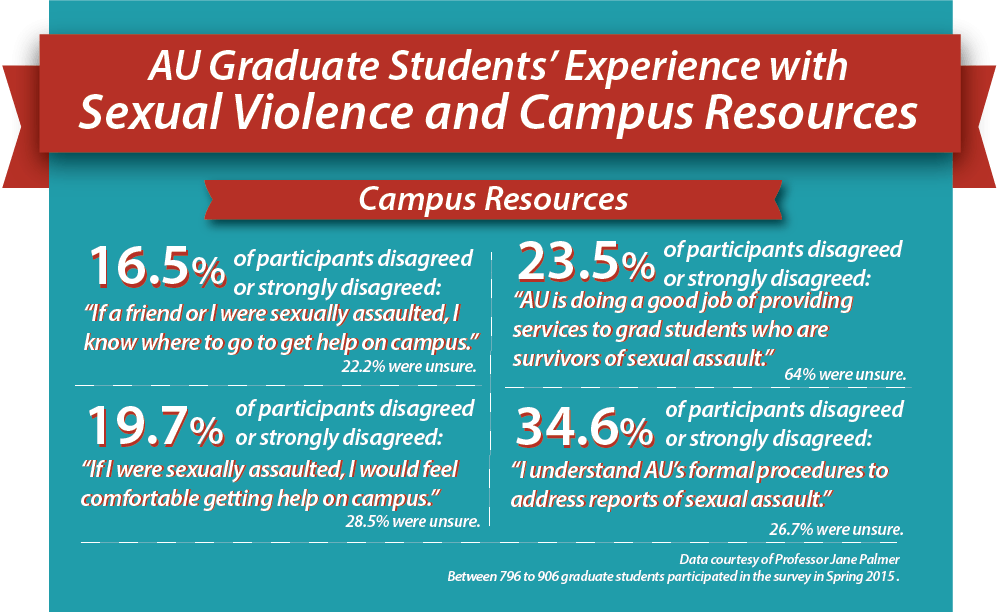 The Eagle recently learned the results of a 2015 study of American University graduate students. That study indicates an undeniable disparity between how undergraduate and graduate students interact with sexual assault support resources at AU.
Nearly 30 percent of graduate students have experienced an unwanted sexual encounter intheirlifetime, according to researcher Jane Palmer's survey of more than 900 graduate students. The study also revealed that 35 percent of graduates disagreed or strongly disagreed with the statement "I understand AU's formal procedures to address reports of sexual assault." A similar 2017 survey reveals over 40 percent disagreed, strongly disagreed or were unsure when asked if they knew where to go if they or a friend are sexually assaulted.
The Eagle staff considers these numbers truly staggering. Despite the abundance of on-campus resources, most of them are impractical to the graduate student experience. Their reality is unique and distinct from that of their undergraduate peers. The administration has failed to make up for the difference.
For example, the fleeting 9 a.m. to 5 p.m. window of most campus resources is incompatible with a graduate's schedule. Graduate students may work full-time jobs, be busy with classes or live far from campus. They are considered adults first, and students second. With so much responsibility expected of them, is it not fair to expect more support for them from their University?
Palmer's research led her to believe that "graduate students see resources as something for undergraduates." The Eagle implores AU's administration to reach out to graduate students directly and communicate that these resources are for them, too. Not only do they deserve to know about their options on campus, but they should also be able to access them. Revising their hours of operation may greatly aid in that endeavor.
In fall 2016, more than 3,800 graduate students took classes at AU, according to the school's website. Graduate students need to know there are safe spaces for them to seek help. No matter the nature of the issue, counseling and a network of support groups need to be made within reach of a student. The Eagle will remain resolute in its coverage of their physical and emotional safety with this prevailing administrative oversight.
---