Tsibi Geva gallery opens at Katzen Museum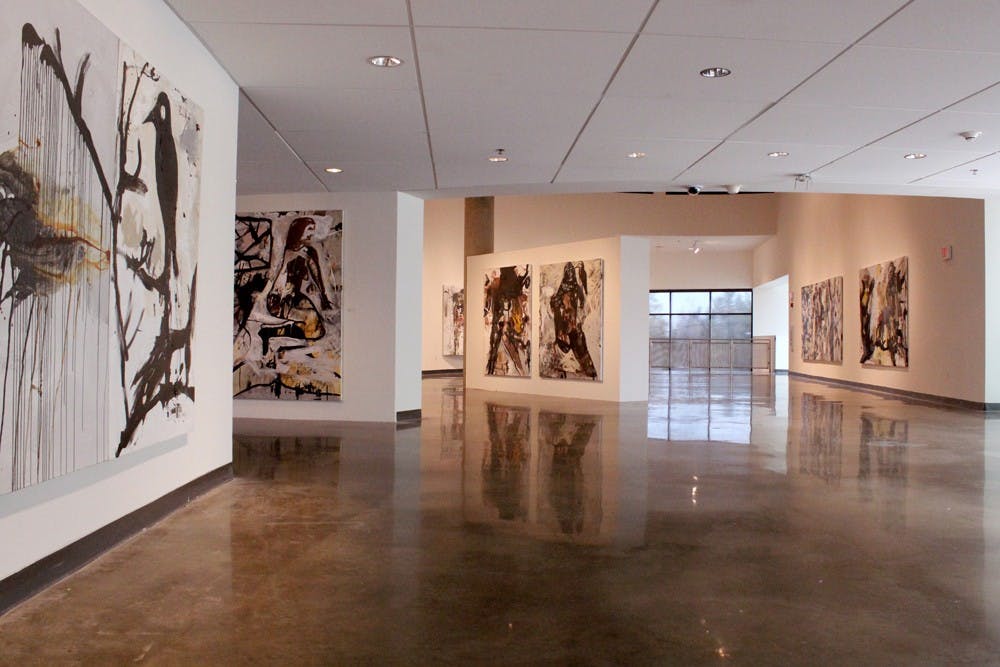 Israeli artist Tsibi Geva discussed his artworks hanging in the Katzen Arts Center with art critic Barry Schwabsky of The Nation and museum curator Jack Rasmussen in front of an eager audience Nov. 9.
Geva kicked off his talk by explaining the importance of the process. He accomplishes this by creating multiple strokes of black and white with a layering effect to create a narrative or event for the viewer , which makes pieces come to life.. These black and white streaks and the subtle vibrancy of intense colors represent the influence of conflict and dialogue in his experiences and in Israeli life, Geva said.
When asked about the difficulty of being perceived as an artist in an age that is heavily video-and-media oriented, Geva replied rather optimistically.
"The new abstract is hard to understand…but give it time and that will change," he said.
Geva is an internationally recognized artist with exhibitions in Tel Aviv, Berlin, Italy and New York. His awards include the Aptowitzer Prize, which promotes Israeli advancement in the arts, and the Mendel and Eva Pundik Prize for Israeli Art.
Arguably his most powerful response was when someone in the audience asked him to pick a painting and explain what it meant to him. Geva seemed discomforted by the question, but was forced to give an answer that left the audience silent and with goose bumps.
"The story writes me, it's not me that writes the story," he said.
He further explained that most artists are able to talk about their problems because painting those particular experiences has helped them do so. However, Geva's process is the complete opposite. He admits that he paints before he can talk about his struggles, and even after, he doesn't know how to talk about it.
Geva stressed the importance of a viewer to be able to perceive a certain energy from paintings without knowing anything about the painting or the artist himself.
"For me, the painting on the wall has to talk," he said.
Tsibi Geva's work is currently on display at the Katzen Arts center from Nov. 5 to Dec. 15 along with five other exhibits ranging from sculpture to photography.
"
thescene@theeagleonline.com": thescene@theeagleonline.com
---