Men's basketball falls to Bucknell at buzzer, holds off Lafayette in win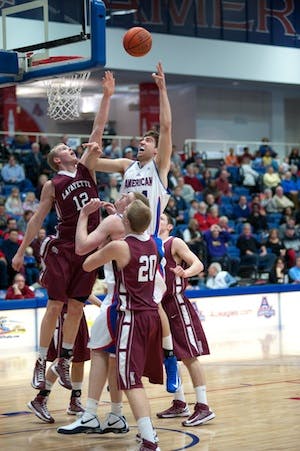 It would have taken one more second or one more play for AU to pull off something it hasn't done in more than 80 days.
The Eagles (8-14, 3-4 PL) haven't won two games in a row since Nov. 15, and Bucknell's (19-4, 6-1 PL) layup with less than a second left on Jan. 30 guaranteed AU will have to wait until day 89 to try and start its first win streak in almost three months.
The 56-55 loss to Bucknell is the perfect example of how tough it is to win a game when you make unforced errors.
"You've got to finish games better than we did," AU Head Coach Jeff Jones said. "To win a close game, particularly against a quality opponent like Bucknell, you can't find ways to beat yourself."
AU beat themselves in the Bucknell matchup by missing its final six free throws and not closing down the Bison on two late defensive possessions. Allowing the Bison to grab two offensive rebounds late, Bucknell turned those opportunities into its final four points. The Eagles' failures at the free throw line and inability to grab a late rebound put off any opportunity to start a winning streak.
A chess match
AU's game against Lafayette (11-13, PL 4-3) on Feb.3 marked the 82nd day since the Eagles managed back-to-back wins.
Adjustments and counter-adjustments filled the game.
Thanks to stellar play from Tony Wroblicky and Stephen Lumpkins, the Eagles had a 13-point lead at halftime. AU's big men forced the Leopards to make adjustments at halftime to neutralize the pair. Wroblicky and Lumpkins' size and length made the Leopards struggle to get rebounds and disrupted Lafayette's shooting. Lafayette only managed 26 percent shooting in the first half. Wroblicky and Lumpkins accounted for more than half of AU's points and rebounds in the first half.
"We were hoping that our size could be a factor in there inside," Jones said. "And we knew we wanted to pound the ball down low to Lumpkins. We kept talking the last couple days in practice to Wroblicky about be ready to rebound on the weak side."
Lafayette countered the Eagles' duo in the second half with a shorter, quicker lineup. The adjustment worked. The Leopards came back to take a brief lead, but Jones had an adjustment of his own with Mike Bersch.
"I just went with my gut," Jones said. "Some other younger guys had gotten an opportunity, but they seemed a little out of sync. I thought, 'Let's give Bersch a chance.'"
The adjustment worked as Bersch hit a 3-pointer late and played solid defense. Thanks to Jones' adjustment, a season-high 24 points from Lumpkins and clutch free throws to end the game from Daniel Munoz, AU won 68-64.
Where the Eagles failed against Bucknell, they shined against Lafayette.
"Definitely pretty bummed out Wednesday night and Thursday," Munoz said after the Lafayette game. "Same situation today. Just happy I was able to come through today."
The Eagles will look for its second winning streak of the season Feb.9 against Colgate (9-14, PL 3-4) at Bender Arena.
sports@theeagleonline.com
---