Folger Theatre soars with adaptation of Persian poem 'Conference of the Birds'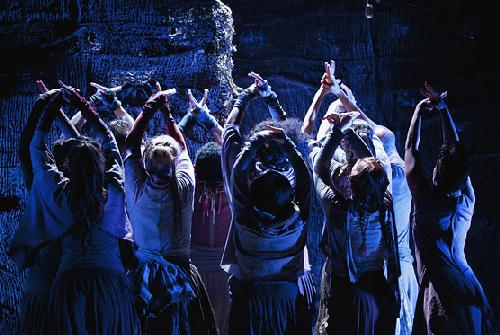 Proving that Folger Theatre offers more than Shakespeare, "The Conference of the Birds" lights up the stage with its adaptation of the 12th century Persian poem by Farid ud-Din Attar.
The play is an epic adventure, following a flock of birds on their quest to find the Simorgh, a legendary bird that represents enlightenment. Each bird embodies a human flaw that hinders them in their journey. The birds are led by the Hoopoe ("wisest bird") played by Patty Gallagher, who leads the cast admirably, giving just the right amount of wisdom and strength to her character.
Before the show begins, the sound of a pulsating drum rhythm is heard, creating a tribal atmosphere that is present throughout the play. The play progresses through a series of stories told by the Hoopoe and acted by the birds, who portray different characters for each story.
The first half of the play is each bird giving the Hoopoe a different reason why they cannot make the journey to see the Simorgh, and the Hoopoe responding with a story to convince them to come. After some of the flock has left, the remaining birds begin the flight. The second half of the play is comprised of the actual journey that spans decades and numerous trials, during which many of the birds do not survive.
"The Conference of the Birds" incorporates song and dance into the production seamlessly. Each song has a different flavor to it, ranging from an acoustic guitar indie number by the Sparrow (Britt Duff) to something reminiscent of 1960s soul sung by the Dove (Celeste Jones). Every actor possesses an impressive physicality, portraying the various types of birds with fluidity.
The set, designed by AU Assistant Professor Meghan Raham, is very elemental with hanging moss curtains and mirrored glass structures throughout the stage used to represent the numerous locations of the play.
Lighting designer Jennifer Schriever made an innovative use of the unique space of Folger Theatre by putting hanging lights over the audience that resemble a star lit night sky.
The costumes all had an earth-tone theme, along with layers that masked the human form and allowed the actors to portray bird like movements with seeming ease.
Though this play originates from 12th century Iran, modern audiences will still connect with its gorgeous visuals and classic story of a journey to self-discovery.
thescene@theeagleonline.com
---